Turn on suggestions
Auto-suggest helps you quickly narrow down your search results by suggesting possible matches as you type.
Showing results for 
Topic Options
Mark Topic as New

Mark Topic as Read

Float this Topic for Current User

Bookmark

Subscribe

Mute
NI-DAQmx - Multiple Channels Data Aquisition
---

@obzy98 wrote:


And when i say 0V i mean disconnecting it, not setting it to 0V, so it's technically an open circuit.

---
That is your ghosting problem then. When you just disconnect, you have no path for the ADC's setup and hold circuit to discharge. A simple fix would be to add a 10k resistor to ground for all of your channels after wherever it is that you disconnect.
---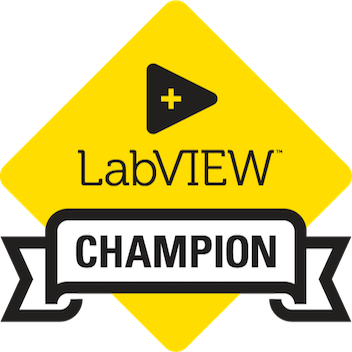 There are only two ways to tell somebody thanks: Kudos and Marked Solutions
Unofficial Forum Rules and Guidelines
"Not that we are sufficient in ourselves to claim anything as coming from us, but our sufficiency is from God" - 2 Corinthians 3:5
---

For problem 2, i tried that, only difference is that the wait time made it produce 5 Samples per second instead.

---
The sample clock and the wait time in a sample read loop are not linked. The sample clock is the sample clock, it is always running in hardware (the USB instrument) loading samples into the buffer. You don't need to, nor should you try to time the sample rate in software. Your job in labview is to go in and read samples out of the buffer so it does not overflow. You can read the samples out of the buffer an order of magnitude or two slower than the sample clock is running. For example the sample rate is 100S/s and you read the buffer every second, so every time you read the buffer you get ~100 samples that each have a dt of 0.01 s
Also don't try to calculate the S/s rate, you define this with the sample clock, you should trust it.
______________________________________________________________
Have a pleasant day and be sure to learn Python for success and prosperity.
‎04-21-2022 10:53 AM - edited ‎04-21-2022 10:54 AM
---

@crossrulz wrote:


---

@obzy98 wrote:


And when i say 0V i mean disconnecting it, not setting it to 0V, so it's technically an open circuit.

---

That is your ghosting problem then. When you just disconnect, you have no path for the ADC's setup and hold circuit to discharge. A simple fix would be to add a 10k resistor to ground for all of your channels after wherever it is that you disconnect.

---
Here is an article for OP to read about open channel behavior - https://knowledge.ni.com/KnowledgeArticleDetails?id=kA00Z000000P6TeSAK&l=en-US