turn on suggestions
Auto-suggest helps you quickly narrow down your search results by suggesting possible matches as you type.
Showing results for 
Featured NI Engineer: Jim Schwartz
Member
Options
Mark as New

Mark as Read

Bookmark

Subscribe

Email to a Friend
Featured NI Engineer: Jim Schwartz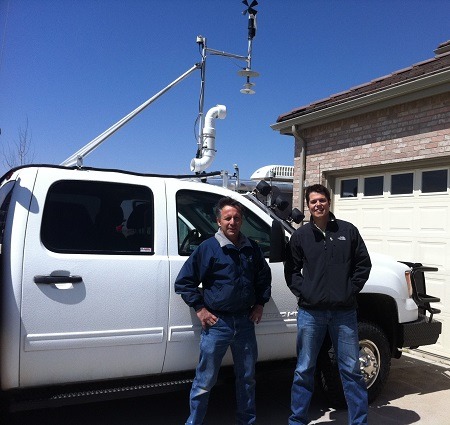 Jim (right), pictured with the late Tim Samaras.
Jim's love for wiring teeth-rattling bass systems for his friends in high school led to a pretty impressive engineering career.
When do you first recall wanting to become an engineer?

I was fortunate to have two parents in engineering. My dad was an electronics hoarder/tinkerer and would always bring home old pieces of aircraft test equipment to take apart. I loved learning about how everything went together and reusing pieces to build my own circuits. In high school, I focused most of my attention on building obnoxious car audio systems for myself and my friends. This is where I learned most about practical wiring and debugging – don't run signal wires next to power wires, make sure you only have one ground, and tune the crossover to ensure the right signals are getting to the right speakers, i.e., only the bass signals were making it to the subs for clean, teeth-rattling bass hits that only 16-year-old boys desire. Couple this passion for electronics with an amazing high school calculus teacher, and engineering seemed like a really great fit.
How long have you been at NI and what has been your career path here?

After college, I started at NI in 2008 in the Engineering Leadership Program. During my interview, it was clear that every person I talked to loved what they did and loved solving hard problems. I can't think of a better career path than solving hard problems for really cool applications. After about two years in that group, I moved to Product Marketing, which was a path that I didn't know existed in college. Working to understand our customer's challenges and helping to define the products to meet their needs really sounded inspiring to me. It has been amazing to help bring to life products that engineers use to design and characterize lifesaving biomedical devices, create more efficient power generation and distribution systems, and build smarter production facilities.
What's been your favorite project at NI?

In 2010, I was fortunate enough to work with the Twistex team from Discovery Channel'sStorm Chasers. This project involved living with the team in Colorado for two weeks to develop the data logger that was dropped in the path of tornados. The system that I helped develop was featured on the show and after tornado season, I hosted Twistex team leader Tim Samaras as our NIWeek keynote speaker.
If a student asked you why they should pursue engineering, what would you say?

Engineering provides the foundation for a lot of different careers. By understanding technology and learning how to break down complex problems, you are positioning yourself well to compete in a wide range of challenging careers. School can sometimes be tough when your buddies are heading to a party and you are stuck in the lab, but know, as an engineer, you can design, build, test, sell or market the products and systems that can change the world.
About Engineers Week
Engineers Week - the only event of its kind - is a time to:
Celebrate how engineers make a difference in our world
Increase public dialogue about the need for engineers
Bring engineering to life for kids, educators, and parents
This post is a part of a series highlighting engineers from NI and their stories about how and why they became engineers.
See other interviews with NI engineers >>>
You must be a registered user to add a comment. If you've already registered, sign in. Otherwise, register and sign in.